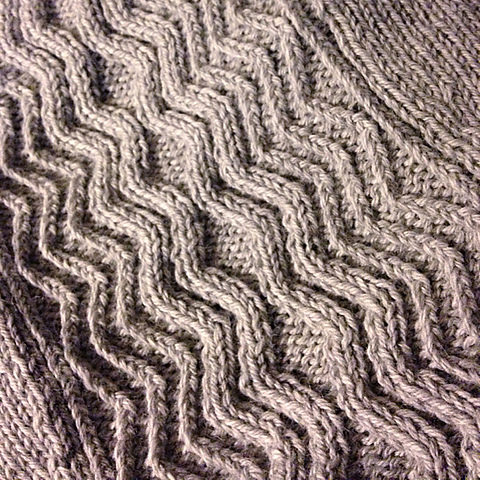 Saturday afternoon I met my terrific WEKP mentor for the first time — Webs in-house knitwear designer Kirsten Hipsky. It was great having a seasoned sweater designer to hash out ideas and challenges with — I am one lucky knitter. Important takeaways from this discussion with Kristin:

Rough estimate of how much extra yarn needed for a cabled garment: add 25% (Thanks for this Kirsten, estimating has been keeping me up nights).
Kirsten validated my concern about trying to sew a tubular cast-off for the full length of the sweater front plus collar – alternatives to mull over include an integrated button band, reinforced with a crochet chain stitch, or an I-cord edging.
Zig-zag travelling stitch is reversible, and a good alternative to a potentially messy reversible ribbed cable as there are fewer stitches to cross in any given row.
Saddle-shoulders work well with a center-cabled sleeve.
Sewn flannel pockets will not fly
Back to the sketch book for a first round of design revisions – the patterned panels are coming into focus.